Artwork Guide
The following are some checklists for artwork setup and the types of files we require for printing different types of stickers. Please note while most are CMYK printing, we do offer Pantone colour matching and custom sticker printing, which should be discussed with our Team at Mystickers.
---
Suitable File Formats
We prefer Vector based files. .eps, .ai, .pdf, however Raster Files a also suitable .jpg, .tif. If you are sending Raster images, please do not draw crop or bleed lines. Also please make sure they are created in CMYK from RGB and at 300dpi at 100% or larger than printing file size.

---
Artwork Setup
Please make sure to consider these when designing the artwork for setup. These are to prevent contents getting cut off when trimming the stickers. In case of Vector files, you can draw these in or leave them out but should be considered. With Raster files, please DO NOT add these in your artwork but consider when designing.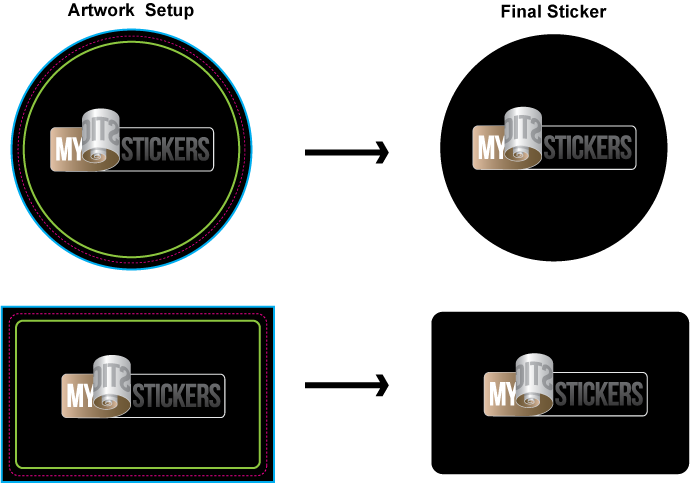 From the cutting line, there should always be a 2mm bleed on all sides of the sticker. So if the Sticker is 60mm x 60mm, the background image or colour should extend out to 64mm x 64mm

This is just to show the cutting line which will be the shape of the final sticker.

This is the safe zone, all contents eg text or pictures that has to be included in the final design should be inside of the Safe Zone. If the size of the sticker is 60mm x 60mm, all artwork contents you want included has to be within 56mm x 56mm of the artwork. (2mm inside of the cutting line all around)
---
Fonts
Please make sure when sending artworks, that all FONTS in the artwork have been OUTLINED. This is to ensure that we can open them up on our computers as there are hundreds and hundreds of fonts avail on Mac and PCs and we couldn't possible carry all of them. You can also choose to send us the actual fonts used in the artworks, if you're having trouble with convert texts to outlines.
Here is the example on the Illustrator Program.

---
Raster Files and Image Resolution
If the file you are sending is a Raster file, please remember to add the necessary bleeds. We do not need crop marks or actual lines showing bleeds etc. Make sure the file is created in 300dpi resolution at 100% scale to the sticker size you are after. Also please convert RGB colours into CMYK Colours.
Here is the example on the Photoshop Program.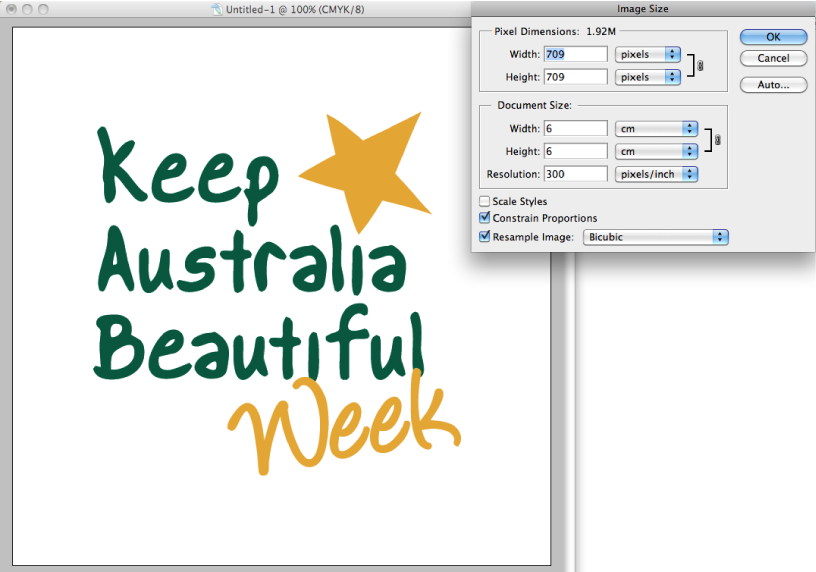 ---